Manual Transmission Repairs and Rebuilds in Laramie, WY
Locally Owned Transmission and Total Car Care Auto Shop
---
Have you been dealing with a manual transmission problem for some time? Are you unsure about the extent of the problem with your transmission? While transmission problems are no doubt one of the most serious issues that can affect a vehicle, they often require only minor repairs or adjustments to resolve.
AAMCO Manual Transmission Repair Services
At AAMCO Transmission and Total Car Care of Laramie, WY, we take the time to thoroughly diagnose your manual transmission problem, and then create an effective plan for repair. During our exclusive Vehicle Courtesy Check service, we will check the level and condition of your transmission fluid, transfer case, and differential fluid (where applicable).
If your car's manual transmission is experiencing a problem, give AAMCO of Laramie, WY a call. Schedule an appointment today for any problem at all– from strange noises to grinding gears and anything in between, at AAMCO, we know your manual transmission and will get you back on the road and shifting gears in no time.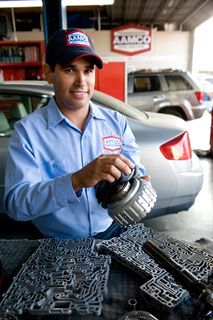 Need CVT Transmission Services?
Visit our expert mechanics at AAMCO.
We will ensure your vehicle is running smoothly, efficiently and safely.
It's possible that our Vehicle Courtesy Check may reveal that the actual issue is specifically with your vehicle's clutch. Often, this cannot be fixed with external changes, repairs or replacements of clutch-related parts. Our certified expert technicians have got you covered.