Engine Tune-Up and Repairs
Locally Owned Transmission and Total Car Care Auto Shop
---
Properly tuning your vehicle can increase your gas mileage and improve your vehicle's performance, all the while protecting the environment from more harmful emissions. An annual inspection is all it takes to tell if your vehicle could benefit from a tune up.
AAMCO Engine Tune-up Service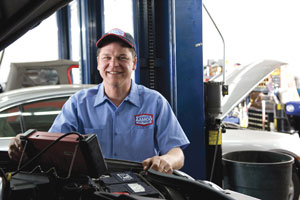 AAMCO's tune up services include inspecting and adjusting each system that affects efficient fuel combustion. Having trouble telling when you're due for a tune up? Keep track of your gas mileage, and watch for it to increase by 10% or more. If your vehicle is experiencing problems with drivability, it might also be time to take your vehicle in for a professional tune up. Check your owner's manual or come see AAMCO for specific recommendations concerning tune up and spark plug replacement.
An AAMCO Tune Up service includes:
New spark plug installation
Idle speed adjustment and set timing if applicable
Inspection of throttle, linkage, spark plug wires, and distributor cap if equipped
Comprehensive performance check to ensure drivability and performance
Vehicle Courtesy Check (VVC) of all your vehicle's critical systems.
Trust AAMCO's team of experts to give your vehicle the service it needs to get on the road and stay on the road. Our team is trained to diagnose and service your vehicle's most critical problems, allowing you to get the service you need to keep your vehicle running.