About AAMCO Laramie, WY
Locally Owned Transmission and Total Car Care Auto Shop
---
AAMCO of Laramie is proud to be one of the hundreds of AAMCO centers serving vehicle owners across America. Over the past 50 years, we've helped repair and maintain millions of vehicles, earning AAMCO a reputation as America's best transmission repair experts and Total Car Care Providers.
Your Trusted Source for Local Auto Repairs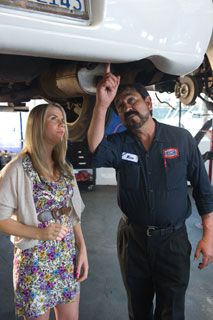 Our commitment to quality work and customer service is our first priority. Our knowledge and training is unparalleled when it comes to transmission rebuilding and repair. All of our technicians are specially-trained to perform repairs on transmissions and your other vehicle systems from nearly every vehicle make and model. No other repair center offers the same expertise.
All of our equipment is state of the art, allowing us to properly diagnose your vehicle's problems, no matter how large or small. We train each of our technicians on the latest in diagnostic equipment to ensure accurate diagnoses and money-saving repairs.
Saving money begins with the correct diagnosis. The AAMCO Initial Vehicle Check (IVC) service can save you thousands of dollars with its systematic and comprehensive evaluation of your vehicle's performance and condition.
Services We Offer:
External and Computer Diagnostic Services
Night-time Vehicle Drop-Off
Specialists in Automatic, Manual, Front Wheel Drive, Overdrive, and 4x4s
We Honor Most Extended Warranties
Financing Based on Credit Approval
Most General Repair Services
Free Towing with any Major Repair Service within 30 miles of AAMCO Repair Centers